Shipping Time For This Product:
Most Styles in Stock & Ready To Ship
Fire-Dex H41 Interceptor with Nomex Nano Flex
The H41 Interceptor Structural Firefighting Hood boasts excellent situational awareness while reducing your exposure to potentially harmful fire ground carcinogens. Streamlined to reduce bulk, this extremely durable hood provides optimal comfort while maintaining breathability!
Certified to NFPA 1971.
WHEN A HOOD IS MORE THAN A HOOD
Protect your crew's vitality and welfare by staying proactive against unseen dangers: carcinogen exposure.
Our classic hood design keeps the flames and heat at bay. Particulate blocking hoods use those same fundamentals and pair them with modern filtration technology to bring you the latest in PPE protection. 
LOW THERMAL CONDUCTIVITY

Naturally acts as an insulator while limiting the ability for heat to pass through.

HIGH FILTERATION EFFICIENCY

Hoods with filtration technology protect against smoke particles and potentially harmful carcinogens up to 4x better than classic hoods.

HIGH BREATHABILITY

Wicking and air flow allows heat to release away from your head making sure you're able to regulate your temperature.
We are proud to have pioneered the first particulate blocking hoods introduced to the fire service in 2016 in response to Fluorescent Aerosol Screening Test (FAST) results. Today, our H41 Interceptor Hood with Nomex Nano Flex remains the most sought after for its breathability, high thermal protection (TPP), and heightened situational awareness.
The H41 Interceptor Hood acts as a filter to reduce your exposure to fireground carcinogenic particulates and harmful contaminants that build up on your jaw, face, and neck. These areas are highly absorptive compared to other areas of your skin. This innovative particulate blocking technology also blocks particulates at 0.2 microns in size or larger.
Check out the benefits here:
MAINTAINS EXCELLENT FLAME AND HEAT RESISTANCE
EXCEPTIONAL BREATHABILITY AND DURABILITY
COMFORTABLE, THIN, & LIGHTWEIGHT
PROVIDES A PROPER SEAL WITH YOUR SCBA
LAMINATION REDUCES POTENTIAL TEARING
Our total coverage option satisfies more than the minimum NFPA requirement by carrying the particulate blocking technology throughout the entire hood including, the neck, ears, jawline, side, and top of the head, as well as the SCBA interface and bib.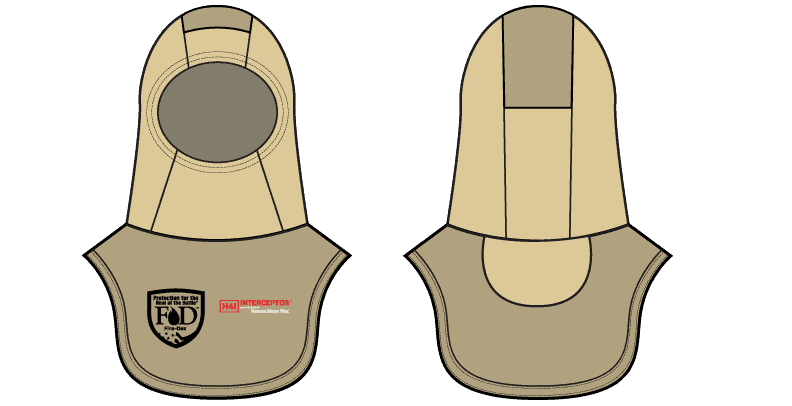 For those seeking great protection at a lower price point, we offer a zone coverage option that focuses primarily on the highly-permeable areas of your skin, around your face and neck. This hood design meets the NFPA requirement for minimum area of coverage.
MATERIALS THAT MAKE THE DIFFERENCE
The H41 Interceptor with DuPont™ Nomex® Nano Flex panel construction provides you with the perfect amount of coverage and a secure fit by reducing bulk under the chin and back of the neck.
This hood features an inner layer of DuPont™ Nomex® Nano Flex laminated between two layers of 6.0oz PBI®/Lenzing (20%/80%).